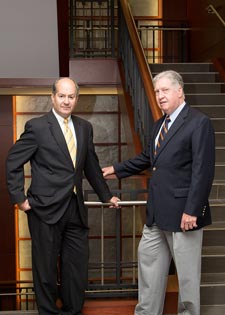 In December of 1997 Thomas E. "Tommy" Player, Jr. and Marvin E. "Chip" McMillan, Jr. joined forces and formed Player & McMillan, LLC.
Tommy Player previously practiced with Richardson, James & Player for 25 years with an emphasis in civil litigation from both a plaintiff's perspective and defense perspective. Chip McMillan practiced with Weinberg, Brown, McDougal & McMillan for 17 years prior to forming Player & McMillan, LLC with an emphasis both in civil and criminal litigation.
More than 15 years have passed since Player & McMillan, LLC was formed and the partnership has proven to be quite successful and continues to provide quality legal representation for its clients. Tommy Player and Chip McMillan bring a combined 70 years of experience for the benefit of their clients.