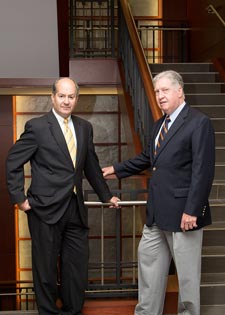 In 1997, Thomas E. "Tommy" Player, Jr. and Marvin E. "Chip" McMillan, Jr. joined forces and formed Player & McMillan, LLC. In 2019, Hugh J. McMillan joined the firm as an associate.
Tommy Player previously practiced with Richardson, James & Player for 25 years with an emphasis in civil litigation from both a plaintiff's perspective and defense perspective. Chip McMillan practiced with Weinberg, Brown, McDougal & McMillan for 17 years prior to forming Player & McMillan, LLC with an emphasis both in civil and criminal litigation. Prior to joining the firm, Hugh McMillan clerked for a South Carolina Supreme Court Justice and was an assistant solicitor in the Third Judicial Circuit where he prosecuted criminal cases, ranging from drug charges to murder.
More than 20 years have passed since Player & McMillan, LLC was formed and the partnership has proven to be quite successful and continues to provide quality legal representation for its clients. The attorneys at Player & McMillan, LLC bring a combined 90 years of experience for the benefit of their clients.